It's Sea Turtle Nesting Season: Tips From Loggerhead Marinelife Center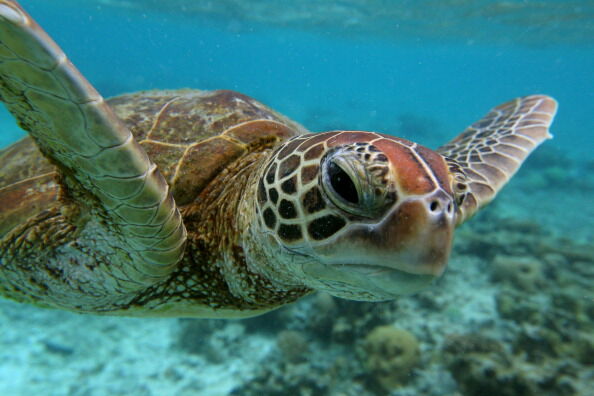 The folks at the Loggerhead Marinelife Center in Juno Beach remind us that sea turtle nesting season is now underway and runs through October.
Researchers at the facility monitor a nearly 10 mile stretch of beach from the northern Palm Beach County line south to the northern end of MacArthur Beach State Park in North Palm Beach.
Just under 12,000 sea turtle nests were counted there last year.
Beachfront residents are urged ot keep their lights out near the beach.
Beachgoers are asked not to disrupt nesting sea turtles and to watch for disoriented hatchlings. They can be taken to the Marinelife Center's 24 hour drop-off cooler on U.S. One.
Here's a list of Do's and Don'ts from the Loggerhead Marinelife Center:
Do:
Throw away debris left behind on the beach
Fill in holes in the sand, knock down sand castles and remove foreign objects that may obstruct a sea turtle's path to and from the ocean
If you come across a nesting sea turtle, observe at a distance from behind
Look out for disoriented hatchlings on trails and roads near the beach 
Keep your lights out near the beach and install sea turtle-friendly lighting where needed
Bring weak or disoriented hatchlings to Loggerhead Marinelife Center. They can be placed in the 24-hour drop-off cooler located outside the Center's entrance (14200 US Highway One, Juno Beach, FL 33408)
Don't:
Interact with or disrupt a nesting sea turtle – it is illegal
Release balloons (deflated ones resemble jellyfish, a common prey item for sea turtles)
Use lighting on the beach at night including flashlights, lanterns, flash photography and cell phones
Touch hatchlings on their way to the ocean
Take or touch empty egg shells, or exposed, un-hatched eggs   
Harm or harass sea turtles, their nests or hatchlings
Use shovels to dig on the beach during nesting season
Photo: Getty Images

Joel
Want to know more about Joel? Get their official bio, social pages & articles on Today\\'s KOOL 105.5!
Read more