Blizzard Captured By Time Lapse Cameras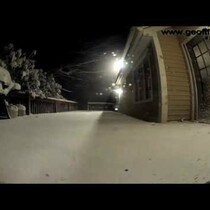 Posted February 11th, 2013 @ 7:37am
As technology rapidly improves each year, more and more of us have better quality electronics.
This is certainly the case with cameras.
During the blizzard of 2013, many people had a similar idea when they started preparing for the arrival of the storm: film the snowfall with their camera's "time lapse" feature.
The morning after the majority of the snowfall hit, videos began surfacing on YouTube, Facebook and other popular websites.
Here are some of the best ones that show just how much snow blanketed the northeast.

Read more: http://www.wptv.com/dpp/news/local_news/water_cooler/time-lapse-snow-videos-blizzard-of-2013-videos-captured-by-time-lapse-cameras-go-viral-on-youtube#ixzz2Kargrkfg